Websites have become an increasingly essential part of our daily lives, providing us with an array of benefits both professionally and personally. Websites have allowed us to access information faster, keep better track of schedules, advertise our businesses, store data securely, and shop online all from the comfort of our home.
For businesses, websites are an important opportunity to carve out and build your online presence within the marketplace. While providing businesses of all kinds with an easy platform through which their customers can purchase their products or services. Websites also allow businesses to maximize their marketing budget by targeting that specific audience through the usage of creative compelling content and simple messages that will hopefully drive traffic. Websites also offer companies tremendous opportunities for growth due to its global reach so that a small business located in Canada can potentially have customers in India or China. Websites are truly incredible instruments, connecting people from all over the world together with just a few clicks. The benefits a website can have for your business is unfathomable.
Choosing the Right Website Developer
When you're looking for a developer to create your website, there are some considerations that must be taken into account. Choosing the right person to construct your site is vital: they'll be responsible for its functionality, aesthetic, and scalability as you grow in popularity.
There are several things to consider when choosing a developer for your website:
Experience and Skills: Look for a developer who has a strong track record of building websites and has the skills and experience necessary to build the kind of website you need.
Portfolio: Check out the developer's portfolio to see examples of their work and get a sense of their style and capabilities.
Communication: It's important to work with a developer who is responsive and easy to communicate with. Look for someone who is open to feedback and willing to work with you to achieve your goals.
Flexibility: Your website may need updates or changes down the line, so it's important to choose a developer who is flexible and willing to make adjustments as needed.
Cost: Consider the developer's hourly rate or project quote and ensure it aligns with your budget.
Timelines: Make sure the developer has a clear understanding of your timeline and is able to commit to delivering your website on time.
Maintenance and Support: Consider whether the developer offers ongoing maintenance and support services, as this can be important for keeping your website running smoothly.
Taking all of this into account is key when making an informed decision about which web developer best fits the bill for your website project!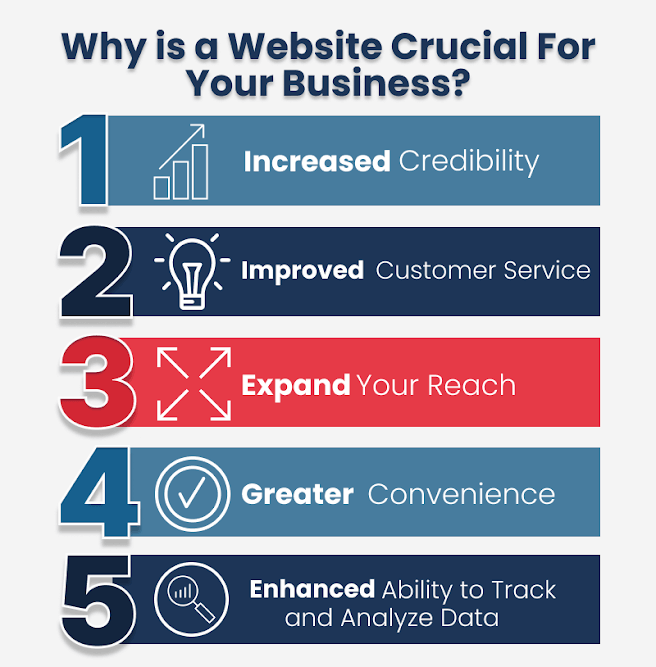 Why is a Website Crucial For Your Business?
Having a website for your business is crucial in today's digital age. Here are a few reasons why your business needs a website:
Increased Credibility: A professional website helps establish your business as a legitimate and trustworthy company. Customers are more likely to do business with you if you have a website that provides information about your products or services, contact information, and customer reviews.
Improved Customer Service: A website allows you to provide information about your products and services, as well as answer frequently asked questions, all in one convenient location. This can save time for both you and your customers and improve their overall experience with your business.
Increased Reach: A website allows you to reach a wider audience, including customers who may not live in your immediate area or geographical region. This is especially important for small businesses that may not have a physical storefront.
Greater Convenience: Customers can access your website at any time, from any location, making it easy for them to learn more about your business and make purchases. This is especially important in today's busy world where people may not have time to visit a physical store or contact your establishment during business hours.
Enhanced Ability To Track and Analyze Data: A website allows you to track how many people are visiting your site and what they are doing while they are there. This can help you understand your audience better and make informed decisions about your business. Data driven implementations have become the new norm as it influences sound decisions.
In conclusion, a website is an essential tool for any business looking to succeed in today's digital landscape and establish a presence on the internet. Websites enable businesses to quickly and efficiently showcase their offerings to potential customers or market products to partners. They provide accessibility, credibility, marketing opportunities, and convenience, making them an invaluable resource in today's digital world.
Websites also provide an opportunity for smaller companies to compete with larger ones by giving them a big business presence without the associated costs. It allows you to reach a wider audience, establish an online presence, improve customer service, and track and analyze data to make informed decisions. It's no brainer that websites have become an irreplaceable part of our daily lives; from fortune 500 companies to individual job seekers, having a website is an essential tool for just about anyone and everyone.
Don't let your business be left behind, get a website today!
Ready to start your next project?