We all know a successful advertisement when we see it. We typically remember an ad campaign because we chuckled, sobbed, smiled or it ignited an ounce of fury within us. What matters most here is that we remembered the advertisement. Consumers never seem to forget advertising campaigns that connects through sincerity, comedy, innovation, or purely outrage. It's the simple advertising campaigns that are the most powerful and influential. These campaigns are incredibly effective and leave a long lasting impression.
Most of the highly notable advertising campaigns are simple and spawn the emotions from its targeted audience in an effortless manner. The key to getting the most out of your advertising campaign is knowing how and when you should post. Choose a few platforms that are right for what it means, then choose an optimum time slot so people will see your ad. There are a lot of things to consider when selecting the right platform. Aspects such as type, size, reach, and demographic. Your targeted audience, as well their interests will all play an important role in deciding what kind of platform works best. Below are the most effective tips and advice, from determining your target audience, deciding on the correct length of your ad and making sure the ad timing is just right. It's vital that we select the right sharing platforms so you'll get the most out of your advertising campaign.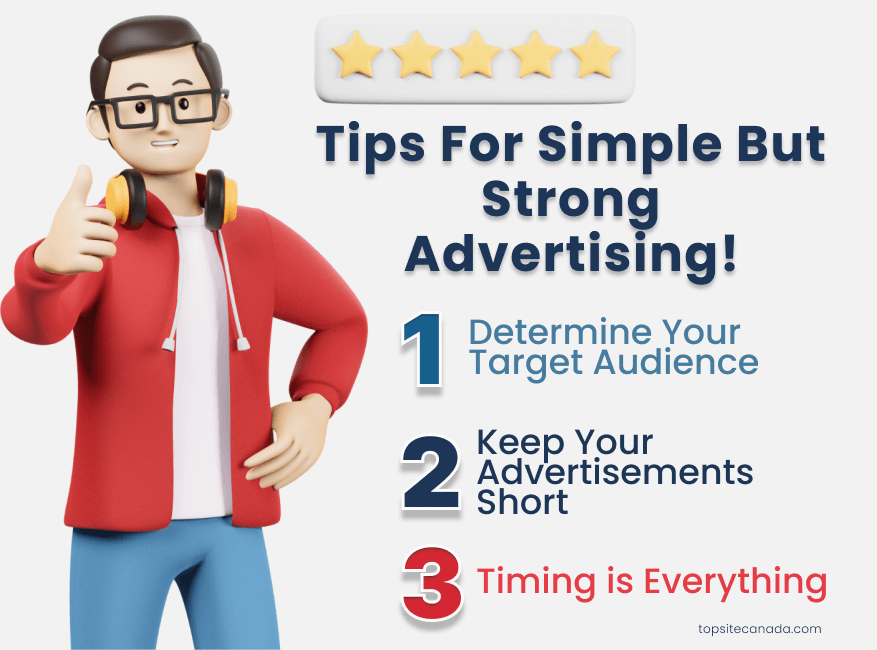 1. Determine Your Target Audience
The first step in creating your advertising campaign is to identify your target audience. The question you need to answer is who are you creating this advertisement for? You need to make sure that your campaign is compelling to your target demographic. You want to launch a campaign that is innovative, educating the populous and providing new insight to a particular niche. After identifying your target audience the next step is content ideation. Your content needs to be carefully crafted so it sends the right message. Our advice is, simple messages work best and will yield great results. After this step, you need to then determine which platform will generate the greatest results. Depending on your advertisement campaign some important metrics to track are impressions, conversions, site traffic, clicks, CPC (cost per click), quality score, viewership, reach, engagement, CRT (click through rate), and CPV (cost per view) just to name a few.
2. Keep Your Advertisements Short
Experts estimate that the average consumer views more than 4,000 advertisements per day. That is quite the number of competitors that your advertisement will be going up against. With that in mind, it's important to carefully craft your advertisement by keeping it short and concise so you're able to grab the attention of your target audience in the first few seconds. If you're able to capture your consumers' attention in those crucial seconds of engagement by appearing eye-catching and effortlessly uncomplicated, then you're on the right track. Simple ads capture attention more effectively than complex ones in our current climate. Consumers today have very short attention spans, you need to make sure that your content is engaging or people will quickly tune out. Studies show that information overload has greatly decreased our attention spans so simplicity and focus sells. Keep your content short, fresh and creative!
3. Timing is Everything
It's never a good idea to arrive to the party late or miss out on current trends, this is a recipe for disaster in the advertising space. Itr crucial for your business to stay up to date with current trends. This aspect is critical to the success of your advertising campaign. As consumer options have increased, our allocated attention time has decreased, which means trends are becoming shorter. With current peaks of attention remaining relatively the same, the excitement around new topics and attractions are happening faster and fading away even much quicker. This means that posting your content at the wrong time of day might mean that your carefully crafted advertisement won't get the visibility it deserves and might disappear into cyberspace. Also posting your content too late might mean that you're not on trend and you missed the buzz. This is why timing is everything, mediocre content that is timed perfectly might outperform extraordinary content that's timed inaccurately.
Getting Started
The online advertising industry is a thriving, dynamic industry, so it's essential that your digital advertising is unique and compelling. Spend some time doing market research so you're up to date with the latest trends but select a trend that fits with your brand. You wouldn't want to put on content that shifts the focus and identity of your brand, product or service. Your core components are why your consumers choose your business. Remain true to your core components but carefully craft your advertisement to appeal to the masses.
We hope after reading this blog that you were able to develop a deep understanding of the advertising world. We were able to outline most effective tips and advice, from determining your target audience, deciding on the correct length of your ad and making sure the ad timing is just right. Remember to place great emphasis on selecting the right platform for your advertisement. You want your advertisement campaign to receive the visibility that it deserves or it will simply might disappear into cyberspace.
If you have any questions or concerns after reading this blog, feel free to reach out to our team at Topsite. Speak to our team of experts to find out how we can help you reach more customers with the right advertising campaign. We have a wide variety of options for every budget and industry, so get in touch with us today! Our friendly staff would be more than delighted to answer any questions you may have. Why wait? The next opportunity to capitalize with an effective advertising campaign may be right around the corner. Let's get started on your advertising journey together!
Ready to start your next project?