Topsite has expanded it's arsenal from primarily being a professional website development agency or a suitable candidate for any of your high-level SEO needs. We do much more than just deliver the "Topsites" in the market. We have grown to become your trusted one-stop shop for all your company marketing and advertising investments. We offer professional web development and SEO services along with any of your digital marketing, advertising and branding needs. 
Over the course of this past calendar year, Topsite has developed an experienced and efficient team, well versed in multiple fields and adequately equipped to tackle any project with professionalism, efficiency and confidence. Not only does our team of specialists aim to provide professional and exceptional services, we do so by placing quality at the forefront of any of our work. We accomplish this without accepting any shortcuts. We listen to our customer's needs and customize each package specifically for every client. There is never a one size fits all approach to our business. We cater to our clients by providing the specific services needed to help their businesses grow.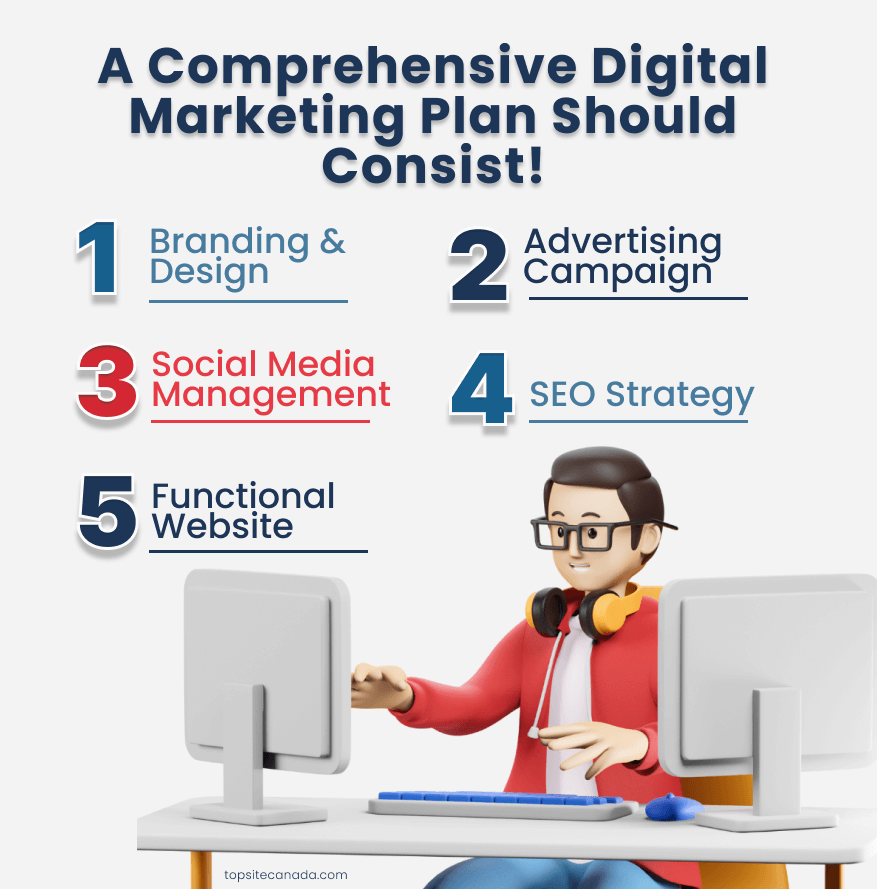 Branding 
Every business, whether it is small or large can benefit from having a top-quality website, a comprehensive marketing plan and an online presence in order to really separate its company from its competitors. As a business, you might ask yourself why should I invest in advertising or even branding. Investing in branding is a very important expenditure. Ultimately, you do not just want customers to recognize your brand and use your business once. You want these customers to create a relationship and engage with your brand so they'll come back for a lifetime.
We're not only here to make them notice your brand but also to assist in having your customers form a bond with your brand. We will take care of everything from any of your graphic design elements such as logo design and even your photography or videography components to help bolster your business. 
Advertising
Effective branding coincides closely with advertising.  Advertising is as important since it can really drive and develop business growth. Advertising works as a mechanism that amplifies your business marketing efforts. It could be used as a tool to assist you in reaching the right audience with positive, targeted messaging that converts potential customers into paying customers in the future.
Our search advertising service is a form of PPC (pay-per-click) advertising, which allows you to put advertisements that look like search engine results at the top of search engine result pages. Paid search advertising can help give your business an advantage over your competitors while driving more qualified leads back to your site. This is a valuable investment that will allow you to see your dollars funnel back into your business.
Along with search advertising, we also offer displayed advertising. Display advertising is another form of PPC advertising that allows you to display well-designed advertisements on high-traffic websites. With display ads, you have the potential to immensely enhance your brand awareness thanks to their striking visual format. Display marketing you can truly reinforce your brand's consistency and visibility, stimulate leads, track performance, and sustain the success of your other PPC activity. We work with every business to decide which method of advertising is best suitable for their needs. 
Social Media Management
Topsite offers a tailored digital marketing strategy that is sure to align with your business marketing goals. We create innovative online advertising campaigns as part of this complicated process, This process is capable of influencing a spillover effect into other parts of your company to help drive success even further! Our digital marketing package comes with other services such as social media management and email campaigns.
Our social media management service is designed to help you get the most out of your social profiles by creating an online community for your business and finding ways to drive engagement with your best customers. Social media marketing can really help your business attract potential customers, obtain customer feedback and build customer loyalty. This form of digital marketing evidently increases your market reach while reducing your marketing outlay. 
Facebook Management
Another form of social media marketing we offer is Facebook management. Facebook is the world's most popular social media platform. Above all else, having a business presence on Facebook is crucial for your marketing efforts. You might ask yourself why Facebook? Out of all the digital platforms which are available today, Facebook is the only platform that helps in targeting the audience at every stage of the customer journey.
Facebook not only helps in targeting at the awareness stage but also helps in increasing website traffic, and improving store visits which in turn increases conversions. Not only does Facebook aid in obtaining traffic to your chosen website but it also helps in keeping the existing audience engaged. Investing in Facebook management provides important secondary benefits such as growing the existing customer base and giving them something new to consider. It provides them with another opportunity to check your profile more often. This aspect of marketing is key in growing your loyal customer base. These customers begin to develop a relationship with your brand and business. We offer this approach since it ties everything together. Our services are constructed to work synonymous with each other to help strengthen its effectiveness. From branding to advertising and social media management, they all align seamlessly. 
Getting Started
Topsite has become your one-stop shop for all your company marketing and advertising investments. We strongly believe that every business regardless of size can benefit from a top-quality website, a comprehensive marketing plan and an online presence in order to really separate its company from its competitors. We are able to provide the professional service you need in order to bolster your company's branding, advertising, and social media presence. Get in touch with us today and let's begin growing your business. Our quoting process is 100% free and you have no obligation to move forward. We are only here to help!
Ready to start your next project?